FOR KIDS WHO LIKE DRAGONS, WITCHES AND MAGIC
Experience the
World of FALCON'S DRAGON
You must have Adobe Flash Player to use this function.
Composed and recorded by
Brock Kristorsson and Jan Gunborg
---
If you're not quite old enough to read Harry Potter, it's the perfect time to experience FALCON'S DRAGON - A Magical Fantasy by Luli Gray because she wrote it just for you - that is if you like dragons, witches and magic.
FALCON'S DRAGON is the story of a girl named Falcon who finds a hot, scarlet Egg in New York City's Central Park and carefully brings it home to care for it. And, one day, a baby dragon cracks through the eggshell and changes her life forever.
In Book 1, Falcon's Egg, Falcon begins her lifelong journey into the world of magic, that mysterious, enchanting place that glimmers just beyond the edge of vision. It is a country known only to believers, whose unique qualities will always set them apart, and Falcon is not at all sure whether this is a gift…or a curse.
Falcon persuades her neighbor, Ardene, to keep the egg safe in her own apartment. Falcon's Great-Great-Aunt Emily joins them and brings in an ornithologist (a bird expert) from the museum to wait for the egg to hatch. When it does, the tiny dragon that emerges, that Falcon names "Egg," becomes both a joy and a difficult problem, as Egg grows bigger and bigger, and hotter and hotter. When Egg learns to fly, Falcon finds herself in real trouble.
What do you do with a secret dragon in New York City? The search for a solution forces Falcon to face her greatest fear.
In Book 2, Falcon and the Charles Street Witch, Falcon embarks upon a quest to find her lost brother and rescue her beloved Egg from people who would lock Egg up or maybe even kill her. In the course of Falcon's adventures, she learns more about her surprising Great-Great-Aunt Emily and meets a colorful, ancient dragon. Through it all, the magic world both delights and terrifies Falcon, but it also leads her to discover a spark of unexpected courage within her own heart.
FALCON'S DRAGON is a story of mystery and magic, of dragonsbreath and enchanted gardens as Falcon and Egg learn about life, family and the magical world of dragons.
FOR MOMS AND DADS
OF KIDS
WHO LIKE DRAGONS, WITCHES AND MAGIC
FALCON'S DRAGON was written by Luli Gray, an award-winning author of books for pre-teens and young adults. This is a perfect choice for young readers and listeners before they embark on the Harry Potter series.
Here are some comments about Luli Gray's work from organizations that know:
"...a story that dances along the boundaries between fantasy and reality..."
- New York Public Library's Central Children's Room
***
"A wonderfully beguiling story of a Manhattan sixth grader who finds something unusual in Central Park."
- Kirkus Reviews
***
"...Gray has succeeded in expertly capturing the wonderment of dragons with the very real confusion of growing up..."
- Bulletin of the Center for Children's Books
***
"Artfully braiding together real life and fantasy...imaginative and meaningful..."
- Publishers Weekly
***
"Gray has created a magical fantasyland of such realism..."
- Booklist
***
"A compelling rite-of-passage tale..."
- School Library Journal
***
Luli Gray's work has also won many awards and commendations. Here are some for her first book, Falcon's Egg, (now Book 1 of FALCON'S DRAGON - the digital eBook from Stay Thirsty Press):
- American Library Association - Notable Children's Book for 1996
- School Library Journal - Best Book of 1995
- New York Public Library - "One Hundred Titles for Reading and Sharing"
- Publishers Weekly - "Flying Start" (December 18, 1995)
- Bulletin of the Center for Children's Books, Recommended (October 1995)
LIVE THE FALCON'S DRAGON LIFE
WITH T-SHIRTS AND COOL STUFF
AND EVEN A TREASURE BOX JUST LIKE FALCON'S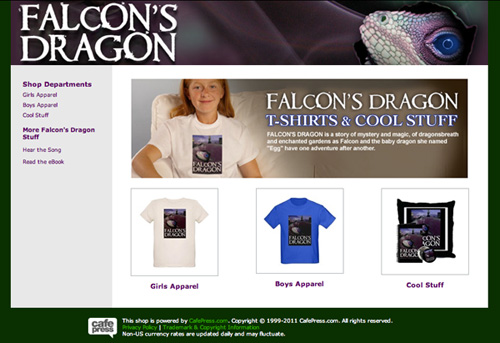 (click image to visit the store)
About the Author
Luli Gray was born in Argentina and grew up in a bilingual family of readers, writers, and talkers. She has lived in South America, Europe, and New York City. She currently resides in Chapel Hill, North Carolina where she says, "the possibility of wonder is just around the next corner."
Links:
FALCON'S DRAGON T-SHIRTS, COOL STUFF AND A TREASURE BOX
Visit the FALCON'S DRAGON Store for more.
The Song of FALCON'S DRAGON
An original song composed and performed by Brock Kristorsson and Jan Gunborg is available on CD Baby and amazon.com.
Luli Gray's Profile at Stay Thirsty Publishing