Deconstruction of the Stay Thirsty T-Shirt by design students from The School of The Art Institute of Chicago
By: Casey McDermott
Photos by: S.I. Wells
---
Think fashion and politics make for strange bedfellows? Think again. Recent years have seen a massive shift in global style, with giants of the industry seemingly embracing a new era of fashion that is – dare we say? – almost democratic in its universality. Karl Lagerfeld and Stella McCartney for H&M. Isaac Mizrahi, Alice Temperley and Erin Fetherston for Target. Even bridal guru Vera Wang has set up shop at Kohl's. In a time when high fashion is available at every price point, a return to the basics seems inevitable. And what could be more basic than a classic cotton T-Shirt?
We approached a group of fashion design students at the School of the Art Institute of Chicago with a mission: to deconstruct our signature stay thirsty tee. Their only criteria? Keep the logo intact and create something entirely new.
Thus the T-Shirt Project was born. In the January issue we featured two of our favorite submissions, and we wrap it up this month with one student's ultra modern take on the handbag. If this oversized clutch isn't the very definition of deconstructed, well, we're not sure what is.
---
Project: Distressed oversize clutch
Student: Michelle Wu
Provenance: Bowling Green, KY
Pivotal fashion moment: Cutting out the bottom of a drawstring Gap shopping bag to wear as a skirt . . . at age six.
Personal statement: I really respect the underground club fashion scene that's going on in London. Designers like Carrie Mundane and Christopher Kane are making prints and fashions with all these vibrant colors and motifs that echo the awesome music scene there. I made a handbag because it says so much about who we are right now. I envision it being carried by someone that's not afraid of expressing themselves, that can rock the bag without caring that people are looking at them.
How thirsty are you?: "Stay thirsty" basically means unconquerable lust for knowledge and life. I love it; stay thirsty is like a present day Greek philosophy!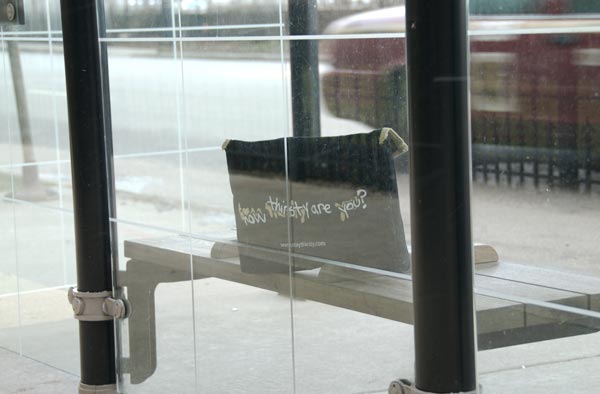 If your school or class would like to join the Stay Thirsty T-shirt deconstruction revolution email us at: info@staythirstymedia.com
More:
Thirsty : February 2008 : "Iconalysis of the T-Shirt" an essay by Tommy Walton
Thirsty : January 2008 : Thirsty T-Shirt Project (first part)